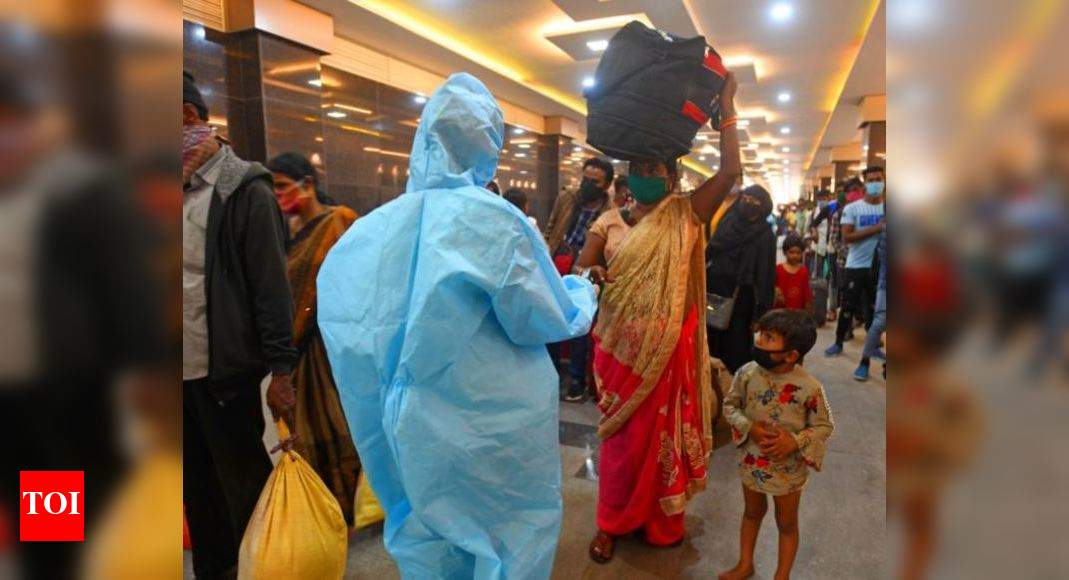 Passengers line up to get their temperatures checked at a train station in Mumbai
NEW DELHI: Even as some states witness a sudden spike in Covid-19 cases, the scientific evidence so far do not suggest any link between mutant variants of coronavirus detected in the country and the rise in cases, government officials said.
India has detected two new
variants of the virus– N440 K and E484Q – in Maharashtra and Kerala and these are being monitored and studied closely. "There is no direct relation between the recent surge in COVID-19 cases in Maharashtra and some other states with the mutant virus strains N440K and E484Q of COVID-19," Indian Council of Medical Research (ICMR) director general Dr Balram Bhargava said.
India has so far sequenced a total of 3,500 variants of coronavirus and 187 individuals were detected with the UK strain, six with the South African strain and one had Brazilian strain of the virus.
"We would like to underline the fact that we do not see attribution of mutant strains to the upsurge of the infection being seen in some districts. But this is a work in progress. We will continue to watch the situation with full responsibility, "Niti Aayog member health Dr VK Paul said.
The government said the mutants were being tracked through genome sequencing and advised strict adherence to Covid appropriate behavior as the majority of the population, particularly in smaller cities and districts, remains vulnerable.
Bhargava said two new virus strains have been detected in other countries too and are not specific to India. Moreover, they have been found earlier in some states in India as well. The E484Q strain was previously detected in four sequences in Maharashtra in as early as March and July 2020. The N440K mutation has been reported on 13 different occasions between May and September 2020 in Telangana, Andhra Pradesh and Assam.
"The current upsurge in Maharashtra cannot be attributed to the currently discussed point mutations," Bhargava added.
The comments come in the wake of concerns that the spike in Maharashtra and some other states could be because of new strains of coronavirus seen to be harder to control with higher transmissibility.
The two new variants are apart from the three different mutant strains already detected in India including those from the UK, Brazil and South African.
"The behavior of mutations is being constantly and closely watched in the country and when we are doing sequencing, we are not just looking for these strains, but also looking for any abnormal shift in the virus character. We have been watching the mutants, "Dr Paul said.
Meanwhile, the center has also deputed specialized teams to states including Maharashtra, Kerala, Punjab, Chhattisgarh, Madhya Pradesh and J&K to assess the reason for increasing daily new cases. The central teams have also been advised to suggest measures to state government in order to control the spread in these states.
Currently, Maharashtra and Kerala account for 75% of the country's total acive caseload of 1.47 lakh.
FacebookTwitterLinkedinEMail