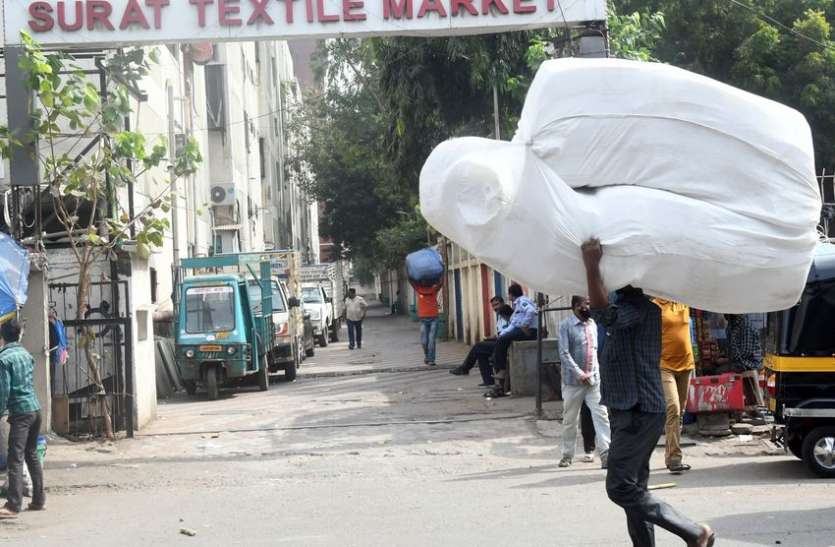 After the Deepawali Puja, there was a boom in the textile business after the opening of Surat cloth market on the profit Panchami, the turnover of three hundred crores on the first day
face. The condition and direction of Surat textile market having suffered a severe recession in the Corona epidemic seems to be steadily improving before Diwali. After the Deepawali vacations, the profit-making boom occurred on Thursday, as soon as the Surat textile market opened, there was a huge boom in the textile business and on the first day, the turnover of 300 million rupees. In the textile market, most traders worshiped in Abhijit Muhurta and booked large quantities of orders by doing Muhurta deals on the occasion of the profit-making occasion.
On the occasion of Deepavali festival in whole of Gujarat including Surat, there is a trend of leisure in the trade-industry and the holiday is completed on profit-making. On this day, in most business establishments, traders start business activities after Deepawali holiday by law. On Thursday, during the Abhijit Muhurta on the occasion of beneficpanchami, traders made deals of Muhurta after Lakshmi, Saraswati and Ganesh Puja. According to astrology, after the Diwali, Kartik Shukla Panchami i.e. Benefit Panchami is a profitable day for the best work, in most establishments, deals were made on this auspicious occasion. During this time, the traders present in the city worshiped after the Diwali holiday in their business establishments and took bookings of orders of goods in other mandis of the country by doing muhurat deals through the agents, agents, brokers.
– Two hundred truckloads of goods depart the first day
On Thursday, after the opening of the Surat cloth market after a five-day mini vacation, more than two hundred freight trucks from Saroli Transport Nagar have left for mandis elsewhere in the country. In these two hundred trucks, goods worth about one hundred crores have left on Thursday. The goods of the Muhurta deals on the occasion of benefic Panchami and the remaining goods of the day of worship of Deepawali will also leave for cloth mandis from Surat elsewhere in the next one or two days.
Demand is made of print goods
There is a strong demand for print goods from outside mandis in the textile market already before Deepawali. On the other hand, the gray market has seen a boom due to demand. This boom is more in the gray items from which textile traders are producing print goods. Booking orders for large quantities of goods has been taken at hundreds of traders of Surat cloth mandi, which is estimated to be 30 to 40 per cent higher than other days.
– Will depart in a day or two
After the Diwali holiday from Surat cloth mandi, there has been a massive booking of goods in the transport and this will be arranged for cargo vehicles as well as leaving for cloth mandis elsewhere.
Kailash Dhoot, Secretary, Surat Textile Goods Transport Association
surat hindi news
Surat Hindi Samachar
surat news
surat news hindi
surat news in hindi
surat patrika news
surat hindi news
Surat Hindi Samachar
surat news
surat news hindi
surat news in hindi
surat patrika news
!function(f,b,e,v,n,t,s)
{if(f.fbq)return;n=f.fbq=function(){n.callMethod?
n.callMethod.apply(n,arguments):n.queue.push(arguments)};
if(!f._fbq)f._fbq=n;n.push=n;n.loaded=!0;n.version='2.0′;
n.queue=[];t=b.createElement(e);t.async=!0;
t.src=v;s=b.getElementsByTagName(e)[0];
s.parentNode.insertBefore(t,s)}(window, document,'script',
'https://connect.facebook.net/en_US/fbevents.js');
fbq('init', '169829146980970');
fbq('track', 'PageView');
.



Source link