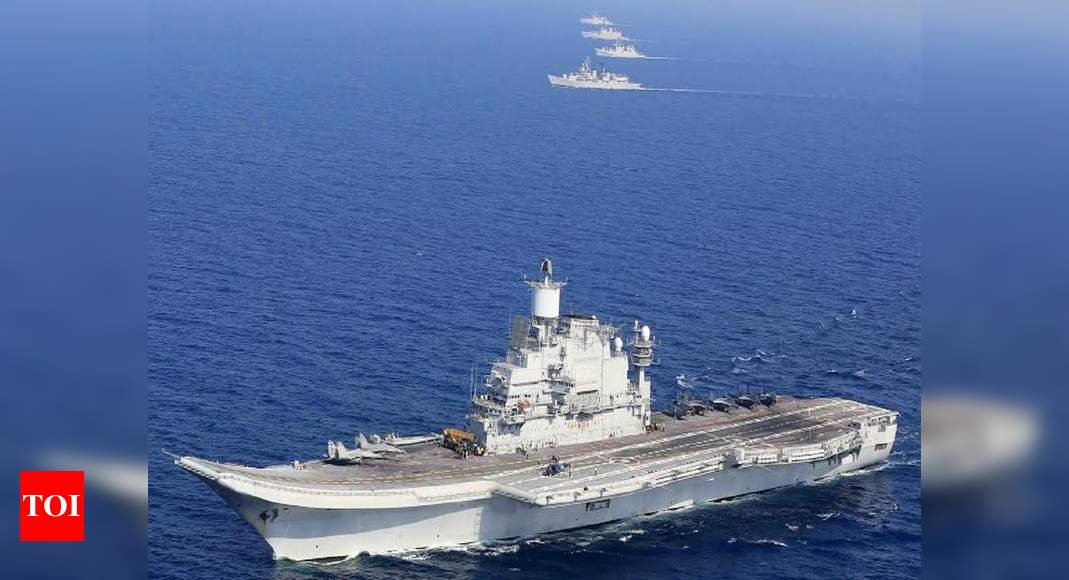 NEW DELHI: India, the US, Japan and Australia are all set to kick off the power-packed second phase of the top-notch Malabar naval exercise, with two aircraft carrier battle groups and other warships, in the Arabian Sea from Tuesday.
India is deploying its
solitary carrier
, the 44,500-tonne INS Vikramaditya with its MiG-29K fighter jets, while the US is fielding its mammoth over 100,000-tonne nuclear-powered USS
Nimitz carrier for the four-day Phase-II of Malabar.
Overall, there will be around a dozen warships and scores of aircraft deployed for the combat manoeuvres, with the "Quad" countries keen on safeguarding the "international rules-based order" in the critical Indo-Pacific region against an expansionist and aggressive China.
The first phase of the 24thedition of Malabar was held in the first week of November in
the Bay of Bengal
, with the strategic show of intent being made loud and clear to China. Phase-II, with aircraft carriers, will be much bigger in terms of force-levels and complexity, as was previously reported by TOI.
Over 100,000-tonne nuclear-powered USS Nimitz carrier
"It will witness joint operations centered around the INS Vikramaditya and USS Nimitz carrier battle / strike groups. The two carriers, along with other ships and aircraft of the participating navies, will be engaged in high intensity naval operations over four days, "said Indian Navy spokesperson Commander Vivek Madhwal on Monday.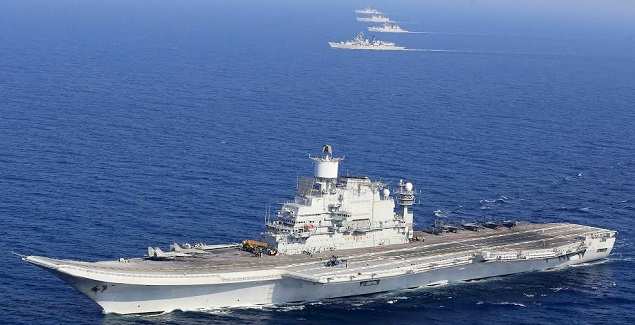 The 44,500-tonne ins Vikramaditya
"The exercises will include cross-deck flying operations and advanced air defense exercises by MiG-29K fighters of INS Vikramaditya and F / A-18 fighters and E-2C Hawkeye early-warning aircraft from USS Nimitz," he said.
"In addition, advanced surface and anti-submarine warfare exercises, seamanship evolutions and weapon firings will also be improved to further enhance interoperability and synergy between the four friendly navies, "he added. India will also deploy destroyers INS Kolkata and INS Chennai, stealth frigate INS Talwar, Scorpene submarine ins Khanderi and fleet support ship INS Deepak, apart from helicopters and P-8I maritime patrol aircraft.
USS Nimitz will be accompanied by cruiser USS Princeton and destroyer USS Sterett, in addition to P8-A maritime patrol aircraft, apart from Australian frigate HMAS Ballarat and a Japanese warship.
India's military confrontation with China in eastern Ladakh is into its seventh month now. Though military and diplomatic talks are underway between the two countries to defuse the troop standoff, the exact modalities and sequencing of the proposed disengagement are yet to be finalized.
The "Quad" countries, which have come together for Malabar after a gap of 13 years, have made it clear that the exercise showcases the high-levels of synergy and coordination between the four friendly navies, which is based on their shared values ​​and commitment to an open, inclusive Indo-Pacific and a rules-based international order.
China, of course, now has the world's largest Navy, with an overall force of around 350 warships and submarines, including over 130 "major surface combatants". The US Navy has293 warships, though it is much more technologically advanced, with as many as 11 "super" 100,000 aircraft carriers (each can carry 80-90 fighters) as compared to the two of China. But China is building two more aircraft carriers, with the eventual aim of having 10, as was reported by TOI earlier.
The 140-warship Indian Navy has only one aircraft carrier, 10 destroyers, 14 frigates, 11 corvettes, 15 diesel-electric and two nuclear-powered submarines, in terms of major combatants at present.
The commissioning of the long-delayed second aircraft carrier being built indigenously, INS Vikrant, will now take place in September 2021. The government, however, has not yet approved the initial case to build a third carrier.