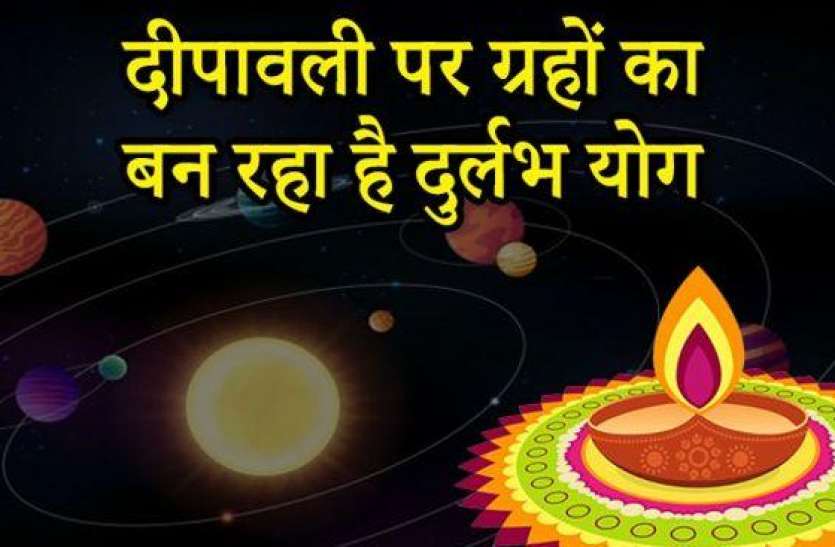 Highlights:
Pooja will be auspicious in this combination after 499 years
-Guru in its zodiac sign Sagittarius and Saturn in its zodiac sign Capricorn
– Deepawali this time is coming with

beautiful signs
Magazine news network
Meerut This time, worshiping in the rare yoga of planets falling on Deepawali will be very auspicious. According to Pandit Kailash Nath Dwivedi, after 499 years, this house will be inhabited by Lakshmi and prosperity. Tantra Puja will also get special benefit on this festival of lights which falls on 14 November. Pandit Dwivedi said that this rare constellation is falling for the first time after 1521.
Also read: Income and caste certificate and ration card will be expensive, new fee will be applicable from November 16
On November 14, Guru Diwali will remain in its zodiac sign Sagittarius and Saturn will be in its zodiac sign in Diwali across the country. The planet Venus will remain low in Virgo and this rare sum of these three planets was seen before the year 2020 on November 9, 1521. Gurus and Saturn are considered to be the planets to strengthen their financial position. In such a situation, this Diwali has brought auspicious signs.
Also read: Drinking water of Ajwain will cure many diseases, know how to consume
Auspiciousness will have to be worshiped in this Muhurta:
Due to rare coincidence, one should worship in auspicious time for economic happiness and prosperity. The stable lagna Taurus on November 14 is from 5:17 pm to 7:13 pm. The Pradosh period will last from 5:12 pm to 7:52 pm. The date of Amavasya will be from 2:12 pm on November 14 to 10:36 am on November 15. It will be beneficial to worship during the Pradosh period.
Worship at this time in a business establishment: –
On Diwali, worship can be done from 11:51 am to 1:11 pm. It will be best to worship from 1:11 pm to 2:31 pm for special benefits. The worship can be performed from 2:31 am to 3:52 pm. Worshiping in these Muhurta will bring business benefits.
Pandit Kailash Nath Dwivedi said that the best Muhurta for the worship of Mother Shri Mahakali, Lord Srikal Bhairava, Tantric world and East Sadhana is in Mahanishith period. There is auspicious time of worship from 10:49 pm to late 1:31 pm.
Meerut
subh muhurat
subh muhurat diwali
diwali subh muhurat
Diwali 2020
diwali 2020 kab hai
rashi
Rashifal
!function(f,b,e,v,n,t,s)
{if(f.fbq)return;n=f.fbq=function(){n.callMethod?
n.callMethod.apply(n,arguments):n.queue.push(arguments)};
if(!f._fbq)f._fbq=n;n.push=n;n.loaded=!0;n.version='2.0′;
n.queue=[];t=b.createElement(e);t.async=!0;
t.src=v;s=b.getElementsByTagName(e)[0];
s.parentNode.insertBefore(t,s)}(window, document,'script',
'https://connect.facebook.net/en_US/fbevents.js');
fbq('init', '169829146980970');
fbq('track', 'PageView');
.



Source link