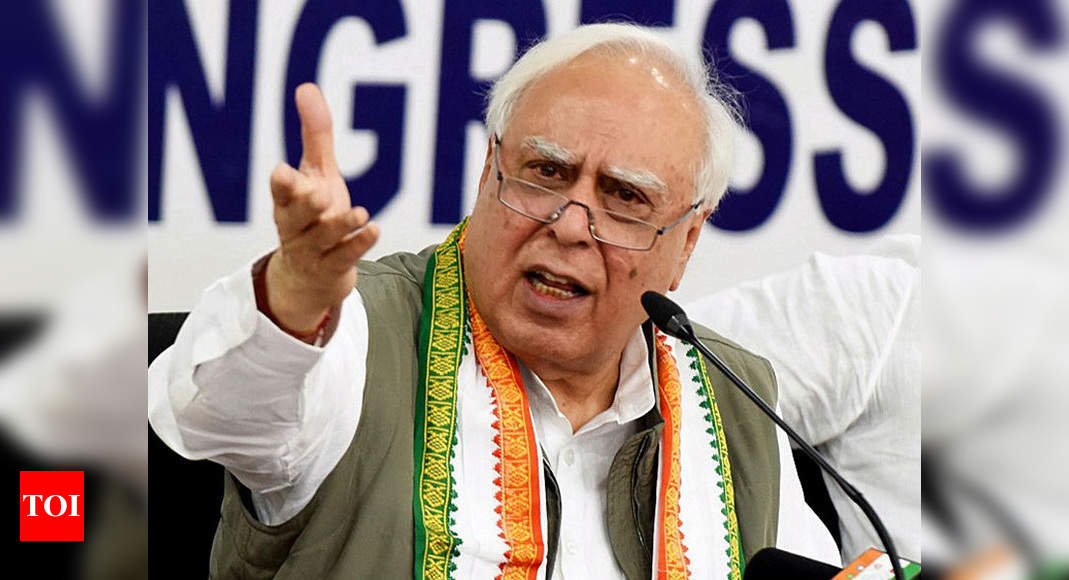 NEW DELHI:
Rahul Gandhi
, who is under opposition fire for praising the people of
Kerala
and comparing them with voters of the north, has now come under attack from the
Congress leaders
as well.
At least two senior Congress leaders have expressed reservations about Rahul's remark.
Anand Sharma
and
Kapil Sibal
has reacted sharply to Rahul's "north-south" statement and wondered the context in which the former Congress chief made it.
"For the first 15 years, I was an MP in the north. I got used to a different type of politics. For me, coming to Kerala was very refreshing as suddenly I found that people are interested in issues not just superficially but they like to go into detail about issues, "Rahul Gandhi had said on Tuesday at an event to mark the conclusion of 'Aishwarya Kerala Yatra' in poll-bound Kerala.
When asked about the remarks, Anand Sharma, who is deputy leader of the party in Rajya Sabha, said the former party chief can clarify in what context he made the comments so that there is no conjecture or misunderstanding on the issue.
"When it comes to the Congress party, it never divided the country. We don't believe in that. Each part of India is equally important. We respect that. The contribution has been made in the freedom movement by the leaders of all regions , "Sharma told news agency ANI.
"We had front-ranking leaders of freedom struggle – Motilal Nehru, Jawaharlal Nehru, Dr Rajendra Prasad, Govind Ballabh Pant, Lala Lajpat Rai, just to name a few. There is a long list. After independence there have been illustrious PMs – Pandit Jawaharlal Nehru, Indira Gandhi, Lal Bahadur Shastri, Atal Bihari Vajpayee – they all represented the state of UP. Recently for 10 years, it was Dr Manmohan Singh from north India, so Congress has never disrespected a region. from north or south, that's not an issue, "he said.
Kapil Sibal, who has been vocal about the state of affairs in the Congress, was more sharp in his reaction.
Sibal asserted that the "wisdom" of the country's electors must be respected despite the fact where they are located.
"I'm nobody to comment on what he said. He said it and he can explain in what context he said … We must respect electors in the country and not denigrate their wisdom … They know who to vote for and why, "Sibal told news agency ANI.
Sibal, however, also slammed the responses from Bharatiya Janata Party (BJP) leaders on Rahul Gandhi's comments, saying that it is "laughable" that they are accusing Congress of trying to divide the country.
"It is laughable that the BJP is saying that the Congress is trying to divide the country. This is a government that has divided the people since it came to power in 2014," Sibal said.
Sibal and Sharma are both part of the group of senior Congress leaders who have been raising questions over the internal functioning of the party.
'Rahul should apologize'
Rebel Congress MLA Aditi Singh sought an apology from Rahul Gandhi over his "MP in north" remark, stating that it is wrong to belittle one's previous constituency.
"Rahul Gandhi made a wrong statement. Maybe he meant well and did not want to project it like that but it is wrong to belittle your previous constituency while praising your current one," Aditi Singh said.
Condemning further on Rahul's statement, Aditi Singh said, "You say other parties divide but you yourself talk of divisions. You say such things about Amethi, a constituency that taught you the ABC of politics. That is where your ancestors received respect and victories and from where you reached Delhi. "
She asserted that as a north Indian, what hurts her the most is that she "does not want anyone in the country to talk about differences between the north and south".
"This was a very wrong statement. We are one nation. Humans make errors but he should apologize to the people of Amethi and the people in the north," she added.
BJP leaders too slammed Rahul over comments "comparing" his present Wayanad parliamentary constituency to his previous Amethi seat.
They also accused him of creating a "north-south" divide.
Union minister Prakash Javadekar called the opposition leader "superficial" and said "insulting Indians" was Rahul Gandhi's "favorite pastime".
(With inputs from agencies)