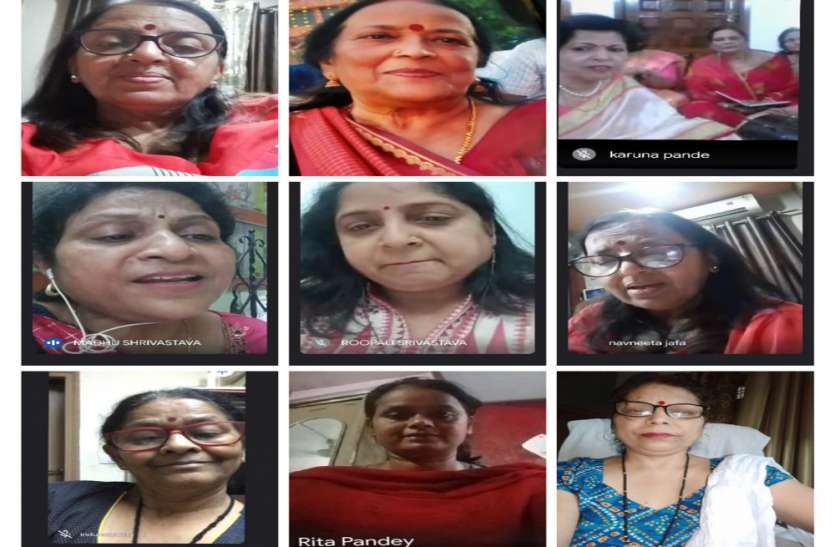 Piroi Mirabai's Hori in tune and tune
Lucknow. Meerabai in her post has described a kind of spontaneous samadhi by the metaphor of Holi. In the four Holi Khel Mana Re … on the day of Fagun, she says that love is the foundation in a fleeting
life. In this love there is a realization of the endless sound of Kartal and Pakhawaj. Six ragas and thirty raginis also emanate from Rome without sound and rhythm. On the sixth day of the Phagotsav organized by the Folk Culture Research Institute, Mirabai's Hori was sung by the participating artists in various melody, melody and melody. Around 25 artists participated in Meera's Holi singing competition. The program was presided over by Sangeet Vidushi Prof. Kamala Srivastava did it. Senior litterateur Dr. Vidyavindu Singh, Dr. Karuna Pandey, Uma Trigunayat and other senior people also expressed their views.
Sudha Dwivedi, Secretary, Folk Culture Research Institute, said that on the sixth day of Phagotsav, the program was inaugurated by Ganeshji's Holi. Dr. Vidyavindu Singh narrated the folklore in the folk traditions describing the plausibility of the month of Phaguna and Chaitra. Dr. Karuna Pandey, Aruna Upadhyay, Saroj Khulbe narrated Hori Khelat Siyaram Awadh Ma, Rekha Aggarwal Ekli Khadi Ray Meerabai.
After this, in the Holi singing competition of Meera, on the day of Fagun, four Holi Khel Mana Re, Bin Kartal Pakhawaj Bajai Anhad Ki Jhankar Re … were presented by the participants in the Raga Peelu, Vihag, Khamaj and other Lokdhunas, in which Priti Srivastava, Rekha Mishra, Sarita Agarwal, Rupali Ranjan Srivastava, Aparna Singh, Kalpana Saxena, Prof. Vinita Singh, Rita Srivastava, Surabhi Singh, Nidhi Nigam, Sudha, Gaurav Gupta, Sunita Pandey, Manju Shrivastava, Madhu Shrivastava, Sadhana Mishra Vindhya, Poonam Singh Negi, Indu Saraswat, Rita Pandey, Vibha Shrivastava, Ratna Shukla, Gopali Chandra, Navnita Jaffa, Pallavi Nigam, Bharti Srivastava, Chitra Jaiswal etc. were the chiefs. The seven-day phagotsav will conclude on Thursday.