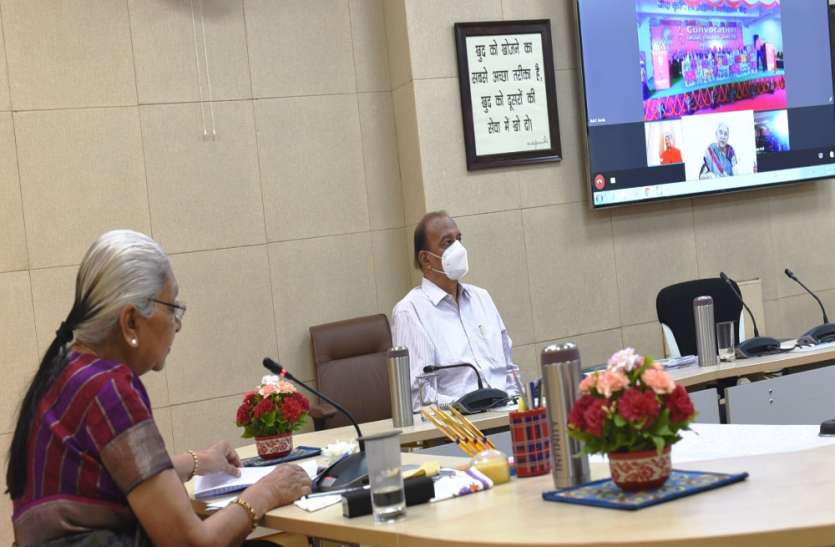 (Banda University Convocation) Students encourage poor children to be clean, nurtured and literate
Lucknow(Banda University Convocation) The country faces difficult challenges such as rapidly changing world economy, increasing population, excessive exploitation of natural resources, lack of arable land, stable and low productivity of
agricultural products. Therefore, agricultural universities should prepare an action plan to deal with all these challenges, so that the university can better identify itself at the global level. This view was expressed by the Governor of Uttar Pradesh and Chancellor Anandiben Patel in virtual address to the sixth convocation ceremony of Banda Agricultural and Technological University, Banda from Raj Bhavan, Lucknow today. In the convocation ceremony, the Governor distributed medals and titles to 24 students virtually.
(Corona) Governor said that agriculture is the basic foundation of our country's economy. Even during the epidemic like Corona, the agricultural sector strengthened the Indian economy with positive growth. The Indian rural economy is completely dependent on farming. It will be necessary to prioritize all-round development of agriculture in view of increasing population pressure and increasing use of land in non-agricultural activities. He said that Banda Agricultural University was established by the Uttar Pradesh government to ensure multi-dimensional development in the agriculture of Bundelkhand region. The Governor said that Banda Agricultural and Technological University should contribute in enabling the farmers of this region through research and dissemination works.
(Governor Anandiben Patel) Anandiben Patel said that in view of increasing demand and supply, water has been considered as the most important resource in the whole world. The availability of water in Bundelkhand is relatively low. In view of the declining groundwater level, rainwater harvesting in Bundelkhand is very important. He said that with the inspiration of the Prime Minister, campaigns like 'Per Drop More Crap' have been started with providing clean drinking water to everyone and providing irrigation water to every field. He said slogans like 'Village water in the village' are important for water conservation. He said that due to the increased awareness about the conservation of rainwater, the ground water level has started coming up in many parts of the country today. He said that everyone should participate enthusiastically in the campaign launched by the Ministry of Water Resources on 'Catch the Rain'.
(Governor Anandiben Patel) The Governor said that women in India cooperate fully in most of the work related to agriculture. Agricultural Universities should focus on skill development of rural women through its Krishi Vigyan Kendras. The more educated and self-reliant the rural women, the more rapid the development of the villages. The Governor expressed confidence that all the students will emerge as confident citizens facing challenges at every step and will play a strong role in social and economic development of the country by walking on the path of discipline, hard work, honesty and responsibilities. He said that the degree students should encourage poor children to be clean, nurtured and literate. Along with this, grow greenery by planting saplings around it so that the environment can be protected. At the convocation, Vice Chancellor Dr. US Gautam presented the progress report of the university. School children were also present in the program.
agricultural sector
agriculture
Bundelkhand region
concludes
contribute
established
farmers
farming
governor
increasing
increasing population
Indian economy
land
necessary
pressure
Strengthened
Uttar Pradesh government
view