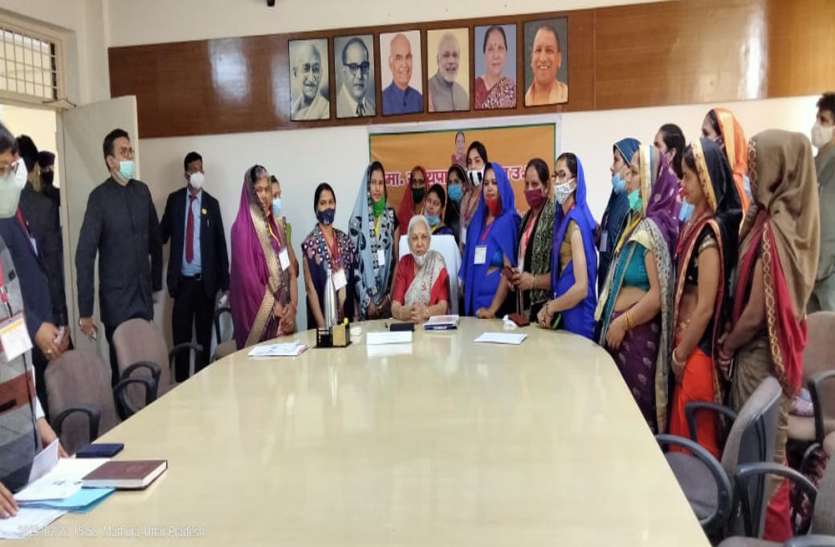 Farmers of the country should be strong and prosperous – Anandiben Patel
Lucknow Uttar Pradesh Governor Anandiben Patel held a meeting with self-help group, farmer producer organization, National Rural Livelihood Mission and Red Cross Society in the meeting
hall of UP Pandit Deendayal Upadhyay Veterinary Science University and Go research. The Governor also presented fruits and gifts etc. to malnourished children and women on this occasion.
The Governor said that children suffering from tuberculosis are a matter of concern for our society, it is our moral responsibility to look after them. Sickness will not go until the society is connected with them. Children with tuberculosis should be adopted and they should be cured by taking good care of them. He said that there is a sense of service in our blood, that's why people come forward and work for service. The Government of India has decided that by 2025 the country will be made TB-free. He said that the Red Cross Society can play an important role in this direction.
In another program, Governor Anandiben Patel held a meeting with women self help groups and farmers producer organization (FPO). In the meeting, the governor got information from the women of the group about the work being done by them. The women of the self-help group told the governor that the work of making pickles, incense sticks, candles, sewing-embroidery and other products was being done by the women of the group.
Anandiben Patel suggested organic farming and expressed concern over excessive use of chemical fertilizers while suggesting to increase the income of farmers and make farming profitable. He also said that farmers are farmers. He grows grains and the Prime Minister says that the farmers themselves should decide the price of their crop so that their produce will get real value. The Government of India intends that the farmers of our country should be strong and prosperous. FPO is formed with this vision only. He directed that 100 percent farmers should get benefit of the beneficial schemes run by the government. On this occasion, Governor Additional Chief Secretary Mahesh Kumar Gupta, District Magistrate, members of Red Cross Society, women of self-help groups and large number of farmers were present.
governor
Malnourished children
meeting
meeting hall
national rural livelihood mission
Red Cross Society
Science university
Self-help group
Uttar Pradesh
women