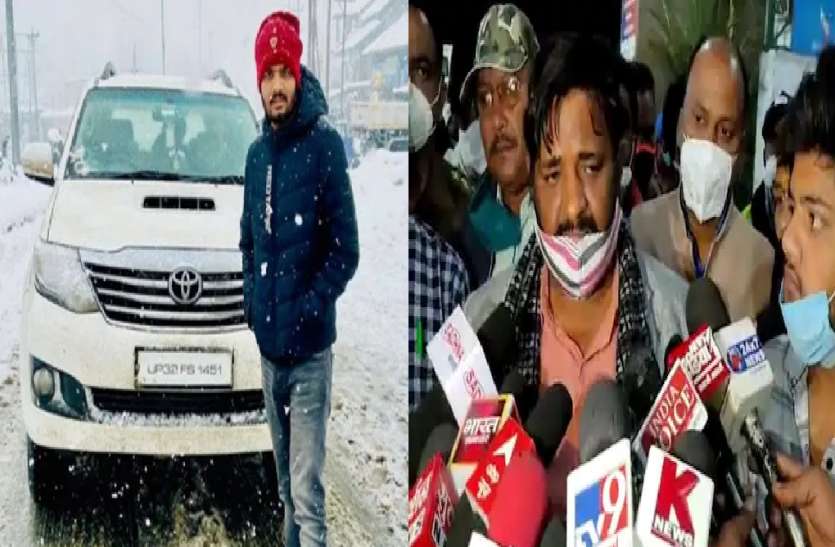 As soon as the son was informed of the shooting, all the big leaders of the BJP, including father and MP Kaushal
Kishore and his wife Jayadevi, immediately reached the Trauma Center.
Lucknow. Late Tuesday night in the capital Lucknow, bike riding miscreants carried out a major incident. The 30-year-old son of BJP MP Kaushal Kishore from Mohanlalganj was shot dead. According to the information, the bike riders came to the rogue on the six miles of the Madianv police station area and BJP MP from Mohanlalganj Kaushal Kishore's son Ayush escaped. At the same time, soon after receiving information about this big incident, the police reached the spot in a hurry and admitted the injured Ayush to the trauma center of Lucknow. Where her treatment is going on. At the same time, soon after getting the information about the shooting of the son, all the big leaders of BJP including father and MP Kaushal Kishore and his wife Jayadevi reached the Trauma Center immediately. At present, the police is investigating the entire incident and is trying to find out who killed the bullet.
Bullet fired from right hand
According to ADCP North Prachi Singh, Ayush was returning home from Madianv at around 2.45 pm. On reaching the sixth mile, the miscreants opened fire on him. The bullet came out penetrating Ayush's right hand. According to the ADCP, the injured Aayush has been admitted to the Trauma Center in Lucknow. Aayush is currently not in a position to give a statement.
Police in search of CCTV footage
According to police, Ayush, son of MP Kaushal Kishore, has been shot and has been admitted to the trauma center for treatment. Ayush's condition is still fragile but stable. The police have registered a case and the investigation is on. The police is searching for the miscreants who attacked them with the help of CCTV footage around the spot. Police said that Aayush has been attacked in the past as well. In such a situation, fear is being expressed about the incident due to enmity.
Son did love marriage
At the same time, regarding this incident, BJP MP Kaushal Kishore said that Ayush had done love marriage. Because of this, he stays close to Bhitauli apart from us. At about 2 in the morning, he was out with his brother-in-law. Meanwhile, someone shot him. He has not been able to see the face of the attacker. The police is involved in the investigation of this entire case and is supporting us.
Also read: The body of the innocent buried 12 days ago came out of the tomb, it happened due to the neighboring woman, know why