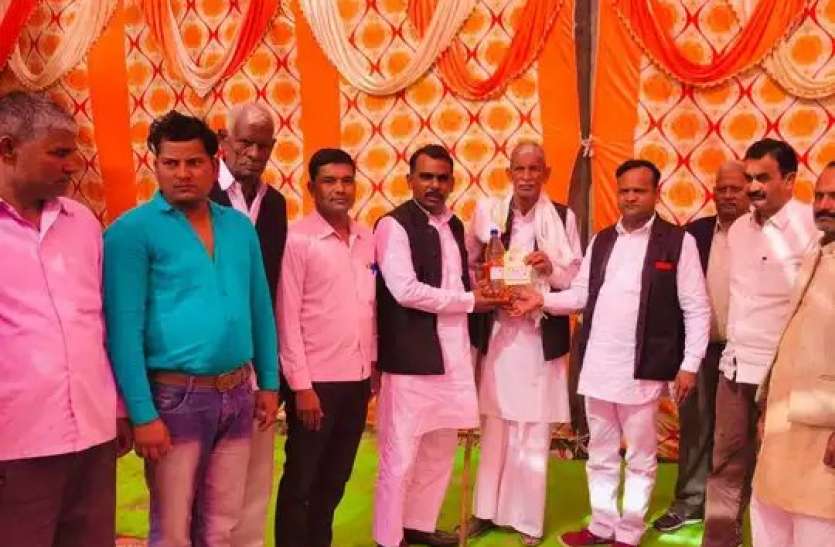 Highlights:
— SP leaders at the wedding ceremony presented a bottle filled with petrol to the daughter
– Unique way to protest against rising petrol prices
– said that now petrol is a gift for marriage
Magazine news network
Meerut In a wedding ceremony in Meerut, the father gave two liters of petrol to the daughter's daughter. When the father, sitting on the stage with the SP workers, gave the petrol bottle to the bride's hand, the guests present there were shocked to see it. SP workers said during this time that now petrol is the only thing to be given as a gift in marriage. Its prices have increased so much that people cannot drive vehicles. Please tell that there is a ruckus about the rising prices of petrol and diesel.
This matter of giving petrol during Kanyadan at the wedding is from Alipur Morna village of Hastinapur police station area. Where SP workers reached a wedding ceremony. During this, the workers gave away the gift by offering 2 liter petrol bottles. Along with this, a protest was also lodged about the increased prices of petrol. In fact, an SP worker Baburam himself gave a bottle of petrol as a donation to his daughter's wedding. He also targeted the government fiercely on petrol prices.
See also: Statue of Corona Warrior installed in honor of Corona warriors
At the same time, former SP General Secretary Kishore Valmiki, who came to attend this wedding, said that we had donated the petrol of a worker's daughter by giving petrol as a gift. He said that due to the manner in which the prices of petrol and diesel are increasing in the country and the state, they have adopted this method of protest. Kishore Valmiki said that its purpose is only to warn the dumb and deaf government of the Center and the state. He said that the increase in the prices of petrol and diesel is being opposed all over the country. Today, farmers, laborers and poor sections are facing inflation. He said that the socialist will also make the common people aware of their opposition in a similar manner. Perhaps this brings some shame to the government.
Meerut
Petrol
petrol diesel prices
Shadi
kanyadan
protest
Meerut
Petrol
petrol diesel prices
Shadi
kanyadan
protest